WELCOME TO SEVILLA AT WORLD COMMERCE CENTER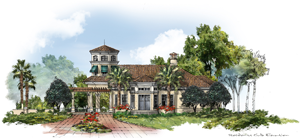 Welcome to the Sevilla at World Commerce Homeowners Association website. The website will provide pertinent information for every homeowner, as well as timely news and upcoming events. For visitors to our site, welcome!  Sevilla is a deed restricted community in rural St Augustine near the World Golf Village and World Golf Hall of Fame.  The community is fully built out with 405 units set in a Mediterranean motif.  The individual single family units are interspersed among lakes and preserve areas.  An attractive Amenity Center includes a clubhouse that can be rented for special occasions, a community swimming pool and children's water feature, and a spacious play ground with play equipment and basketball area.  The area is pristine and centrally located between the St. John's River and the Atlantic Ocean.  Many public beaches have easy access with parking available.  Historic St. Augustine is about a 20 minute drive away.  The community infrastructure includes an unique consumptive use permit that allows us to irrigate our yards using reclaimed water from our lakes.  The lakes can be refilled to a certain level by using wells as outlined in our agreement with the St. John's River Water Management District.  This amounts to a huge savings to homeowners as irrigation is included in a modest HOA yearly assessment.  The HOA assessment allows us to provide upkeep on the above-mentioned amenities as well as providing landscaping care for all common areas. The money's collected also help us keep our irrigation equipment in proper repair.
Our New Shade Shelter
is Complete!
The drainage swale work along our eastern boundary has been completed!
(Please help keep it clear by refraining from discarding brush, grass or any other debris in the any upland buffer or swale.  Brush and grass pickup is available every Tuesday by our recycling company.  The cost of this project was in the neighborhood of $12,000 which had to be taken from funds that could have been used for community projects.  Help us to help you.)